Yup. It's true. I'm an awful blogger - terrible even. I haven't posted a
real
blog in a long time. Okay, so here's what's been going on in a short little nutshell:
1.) I went to Chicago for the weekend back in October. It was the first time I had ever been away from my family for that long. A very good friend of mine, whom I've known since Kindergarten, was also in Chicago that week for business as well. She lives in Ohio and travels quite a bit for work. We get to see each other about once a year and that visit is usually a very limited one. (She's a popular person when she comes home!) So, it was soo nice to be able to spend an actual weekend with a person who wasn't demanding. :) We spent a day on Michigan Avenue and Navy Pier and ended the day at a fun little piano bar called Howl at the Moon.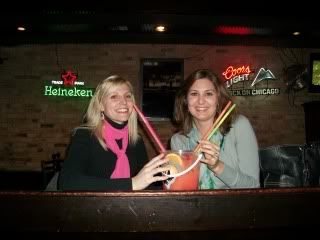 2.) Grayson turned 4 in November. FOUR. I refuse to believe he is that old. This means that Jack will be 2 in a few months. I have not yet come to terms with that either. We had a low-key party this year. The fall so crazy for me. I was in Chicago one weekend, the next weekend I was hosting a fundraiser for work, the next was Halloween, and the next was Grayson's birthday. So, I just didn't have time to create such an event like the farm the previous year. Grayson didn't care, though. He got a big boy bicycle for his birthday. He loved it and was riding it like a pro in a matter of minutes of getting on it.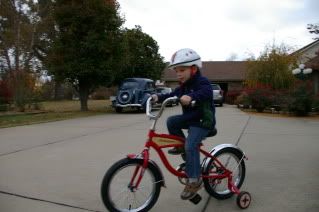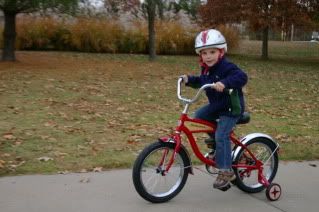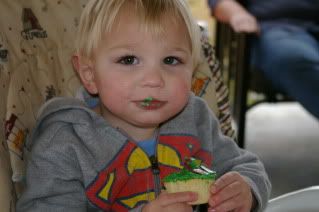 3.) I hosted my first Thanksgiving dinner this year at my house. Don't get too excited, it was just us and my parents, so it wasn't like I had a houseful of guests. That being said, we did have enough food to feed about 3 times as many as were here. I put a lot of effort into my turkey, and here is my result:
I let this baby brine all night the night before and all day Thanksgiving, and I have to say, it was probably one of the BEST turkeys I have ever eaten. I will absolutely, without a doubt use this recipe over and over and over again.
So, that's it. It seems pretty boring going back and reading it, but those are the big events that have happened. There's still everyday life with work and whatnot, too. I guess that pretty much gets you caught up. You're welcome. :)